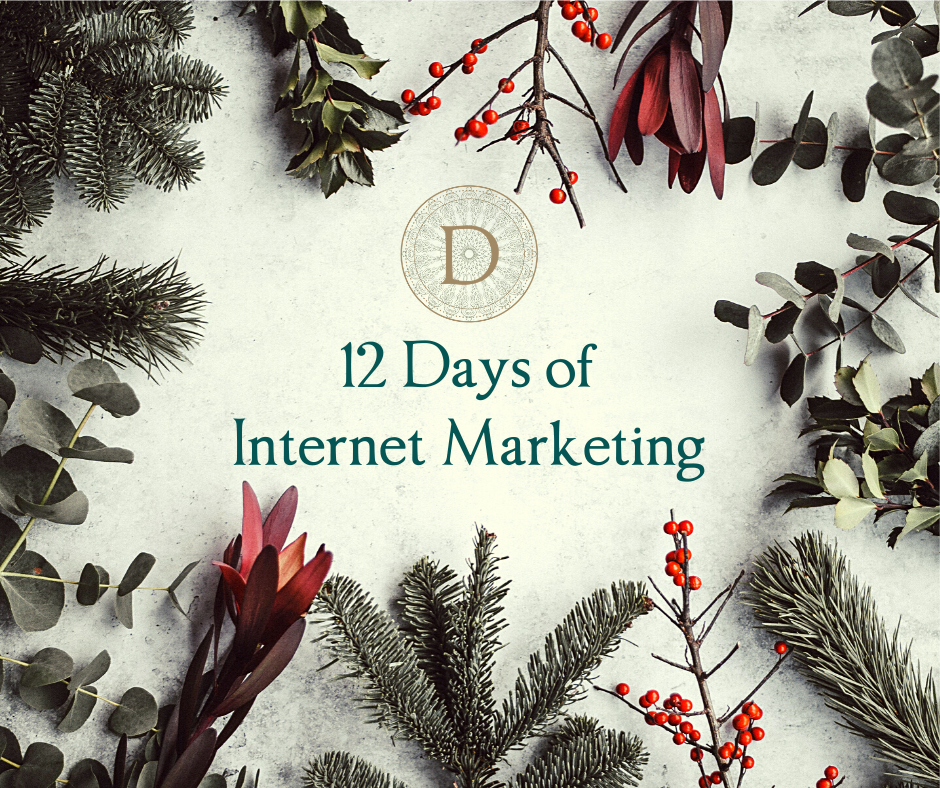 The 12 Days of Digital Marketing: Day 9
Welcome to Day 9 of The 12 Days of Digital Marketing. 
Every day, we'll answer a marketing question sent in by people like you. Even if—especially if!—the phrase "internet marketing" produces deep nausea or dread. We're here to show you how it's all about connection and authenticity.
Q.
I've never had a website for my business, but with COVID, I need to get some online visibility or my business won't survive. I don't know a thing about creating a website, and I'm pretty overwhelmed by the thought of it. Where do I start?
– How Do I DIY?
A.
Dear How Do I DIY? –
Well, the simple answer is: you hire someone to create a website and focus on the parts of the business that are your specialty. Of course, we know that's not always an option, and if you want (or need) to do it yourself, there are a few things you can keep in mind to keep it simple.
Ideally, you would start with a full brand identity workup—style, fonts, colors, brand voice—all based on how you connect with your Right Person ideal client. But if you just need to get something out there, go with what appeals to you and trust that authenticity is going to help set you apart. Take the time to look at other websites—in your industry and not—and make a few notes about things you do and don't like.
Next, you'll need to set up hosting. We're fans of DreamHost or Bluehost, but you can go with whatever you choose. To keep it simple, just register your domain name (the URL of your website, as close as you can get to your business name so it's easy to find) with your hosting provider.
The easiest way to create a website if you've never done it before is to use WordPress. It has enough features to cover your basic needs, it's relatively easy to update and maintain yourself, and themes and plugins make it customizable enough to suit your business. Your hosting provider should have simple instructions for installing WordPress Just follow their step-by-step guidance (or get on chat with tech support—it's what they're there for!).
Now that you're set up on WordPress, you'll want to choose a theme. Think about how you want your website to function, and explore the options to see what most closely matches your vision. A web designer can customize these themes to make them even more you—and to get rid of that templated feel they can sometimes have—but for the purpose of keeping it simple, just stick with one you like as-is, and maybe play with the colors in the "Customize" section once you have your chosen theme installed. If there are special things you need your site to be able to do—like events calendars, contact forms, or product sales—search plug-ins to see if something exists to support that. Chances are, it does (though be aware that you may need to pay for a premium version to get it to do exactly what you want).
We recommend that all websites have at least four main pages: Home (what your business is about), About (who you are, and why someone might choose to work with/shop with you instead of someone else), Services/Products (clearly stating what they can buy from you), and Contact (making it easy for them to get in touch with you to buy). Work with your theme's template pages and make sure to update any fake "filler" content to represent your business—you don't want to be a bakery with a mysterious section about your communications team.
Finally, make sure you're promoting your new site—just building it and letting it sit there isn't likely to get a lot of traffic. This is where social media, newsletters, and regular old word of mouth come in.
It may not be fancy, but your basic website can be functional and help get the word out about your business, and you can always revisit it later if and when you're stable enough to hire some support. We'd love to see you in our Brand Alchemy Experience when you're at that point, so you can build a cohesive brand, increase the customization on your website, and learn how to best promote it to the right audience (with six months of support from us in The Aurum if you feel stuck). It's less of an investment than a full done-for-you website, but we're pretty excited to support business owners who could use some help but aren't quite there yet.
Warm wishes for a wonderful website,
-Emma & Katie
Have a burning question of your own? Email us at info@dossieragency.com. We're keeping all questions anonymous, so be as upfront as you need to be, and don't worry about feeling silly. Chances are, lots of other people need to hear the answer, too.