Could you use some help connecting with your ideal clients?
You've seen it in other businesses. A style that catches your eye. Ads that have people talking. A level of polish and consistency and cohesiveness to their brand that has, so far, escaped you. You know you have a great business. You just think there's something getting lost in translation before it's reaching the eyes and ears of your ideal audience.
You might be having a hard time connecting with your business. You tell yourself you love the work, but when it comes time to sit down and blog or write website copy or connect with your audience, you find yourself drawing a blank.
Maybe you've struggled to come up with a cohesive identity for your brand. Something that feels like you, like that perfect leather jacket that's practically molded to your body, or the signature lip color you won't leave the house without (even if no one else will see it). Something that excites you every time you think of it, and that's carried across every single thing you do so that it's so deeply entrenched in your business that it's practically part of its DNA.
It's possible your business never really felt like it needed much of an online presence. A basic website, maybe; an address and a couple of pictures to entice visitors through the door. But in today's world, that no longer feels like enough. (In today's world, your doors may not even be open.) How can you adapt so that your business has an opportunity to grow in this environment, rather than biding your time and hoping you make it to the other side?
Maybe you're ready to develop a signature offering for your clients, something that feels true to who you are and what you do, that allows you to engage with your ideal customers in a way that feels like a joy to you…or that is entirely passive income and allows them to get to know you without your lifting a finger. Something that lets you—no matter how local and location-dependant you are—engage on a global level.
Or maybe you're struggling to get eyes on you, online. Your website is just sitting there, waiting for the right people to come along…and now what? You've heard you need to promote it, maybe even run some ads, but without a clear plan of action, it just feels like a waste of money. You don't want to throw away your advertising budget just to shout into the abyss.
Maybe it's all of these things, but you know that hiring someone to do it all for you is out of your reach (or just your interest) right now. 
And maybe (probably) you're feeling pretty alone about it all.
You know what would be really, really good for your business?
A gorgeous, straightforward brand-building solution that is, frankly, kind of magical.
Who you are, at your most authentic, most involved, most fully realized, is exactly what your business needs. It's time to fully step into your own magic and turn it into business gold.
Our Brand Alchemy Experience is for you if you:
Are looking to build your very first website, or your current website just isn't working for you 

Know you need to develop a cohesive brand identity so you can grow and flourish as a business

Haven't figured out how to regularly connect with your clients or customers online

Want regular, ongoing support, a community of business owners working through similar issues, and an extra push to focus on what truly matters in your work

Aren't quite ready to invest in our full-on, white-glove service, or are hardcore DIY-or-die forever

Delight in receiving ultra-luxe surprises in the mail
If this sounds like you, we'd love to have you join us in this shared experience.
Cost:

$2500
What You Get in the Brand Alchemy Experience
While you're going to love the swag that's included, the core of this kit is our massively helpful brand-building coursebook. (Oh yes, this is a real, pen-and-paper, in-your-hands kit—with a digital component, if that's more your style.) 
Our all-in-one coursebook guides you through the process of: 
Determining your ideal client

Establishing a visual brand identity

Developing your brand voice

Coming up with a (COVID-proof, growth-friendly) signature offering

Naming your business and products or offerings

Setting up and promoting your own website

 
Yes, all of that, in one, positively packed, pen-and-paper course. Each module could easily serve as its own 
stand-alone course or e-book, but we know that a truly effective brand needs to consider every aspect of this process in order to show up effectively online, and every piece works together in harmony to deliver an experience your customers are going to be scrambling to engage with. And because we know there are all different types of learners, in addition to your pen-and-paper coursebook, you'll receive access to each lesson as a digital file and an audio recording, so you can choose whichever method works best for you
Sound a little bit overwhelming? Don't worry! You'll get step-by-step guidance for each part of this process, with guided inquiry questions, exercises, and methods for putting it all together that mirror much of what we use in our white-glove, one-on-one services—without your needing the decades of marketing experience we have under our belts in order to put it into practice. We'll even include a USB drive containing videos that introduce each lesson (which will not self-destruct after you view them).
And because we love getting gorgeous surprises in the mail, your coursebook will arrive packaged in a beautiful matte-black box along with some seriously fabulous tools, treats, and extras, because that's how Dossier rolls. (Engraved selenite crystals in their own velvet bags? Luxury candles? Gorgeous, embossed leather journals? A hand-written note just for you, waxed-sealed because we live for the intrigue? Oh, yes. And more.) 
Basically, we want you to feel as good about this process as you're going to feel about your business when you're finished. 
And, best of all, you'll get to join us in our private membership community, The Aurum.
The Aurum comprises:
A monthly email newsletter diving deep into a topic that's crucial for building a healthy, thriving, self-nourishing business your way
Weekly notes full of things we're loving, curated playlists, ideas for treating yourself, articles or short stories or artwork we've enjoyed, productivity tips that have worked for us—basically anything we feel will brighten your day or lighten your load in some way
A monthly video chat with Emma and Katie, where we share our thoughts on the month's topic and offer our own suggestions and strategies for building a business when you don't naturally fit in lock-step with what you've always felt a corporation "should" be
Twice-monthly group coaching calls with Emma and Katie, helping you work through areas where you need more personal support
A Facebook group, where you can interact with other members of The Aurum to share successes and struggles, offer support, celebrate wins, and participate in group discussions and guided challenges around that month's topic
Discounted member-only rates on two-on-one (that's us and you) coaching calls, or on the entire library of courses in The Voice Bureau's classroom
To ensure a more personalized experience, membership in The Aurum is restricted to participants
in the Brand Alchemy Experience for the first three months of 2021.
You'll receive six months of membership with your Brand Alchemy Experience kit, after which you're welcome to continue your membership at a rate of $145 per month.  (Which means you're getting an $870 value on membership alone as part of your Brand Alchemy Experience!) 
Doors to The Aurum open January 1.
The sooner you join, the more time you'll get to spend with us in this more intimate group—which means more time with eyes on your needs, and a better chance of personal attention in our group coaching calls.
So, to reiterate, you'll be receiving:

A six-module

printed coursebook

covering:

Determining your ideal client

Establishing a visual brand identity

Developing your brand voice

Coming up with a (COVID-proof, growth-friendly) signature offering

Naming your business and products or offerings

Setting up and promoting your own website

Six months of membership 

in The Aurum with all of the corresponding membership benefits, including exclusive, Brand Alchemist-only access through the end of 2020

A

deluxe USB

containing a

video introduction

to each module, plus

digital copies and mp3 audio recordings

to best support your preferred method of learning

Guided exercises, inquiry questions, and methods

for turning your ideas in an easily-actionable plan for building and promoting your digital presence, including

templates and step-by-step instructions

on setting up ads, funnels, and other promotions

As much

ultra-luxe,  seriously fabulous swag

as we can fit in one package
Just like an alchemy set, our Brand Alchemy Experience kits will help you experiment until you've turned
your ideas—and your brand—to gold. (Unlike alchemy, our kits really work.)


The investment for our Brand Alchemy Experience is $2500.
// Why can't I receive my Brand Alchemy Experience right now? I hate waiting.
Because the Brand Alchemy Experience includes a physical box of custom-made treats, tools, and, of course, our printed hardcover coursebook, supplies are limited. We'll be restocking as quickly as possible, but given the nature of our special, made-for-us components, there may be a lag between orders and shipping. We plan to ship Brand Alchemy Experience kits beginning in January.
Yes, that means you'll have to be a little bit patient. Yes, the exact swag you'll be receiving is going to be a surprise (a good one, we promise). But trust us, you don't want to miss out.
You're also welcome to join us in The Aurum the moment doors open on January 1, which means you'll have access to an intimate, members-only community, along with live coaching calls and targeted guidance on our monthly topics.
We know waiting is hard, but this personal attention will give you plenty to work on while we finish packing everything up and putting it in the mail. And with The Aurum, you'll continue receiving support long after your kit arrives, so you never have to feel alone.
// I'm not really sure what my business needs right now. Should I wait to sign up for this?
Maybe. This is a great starting point for building (or rebuilding) your brand identity, especially online. Even if you're starting from the ground up, the guided questions will help you figure out those next steps. (Sometimes, you don't know what you don't know, you know?) But if your business is still in the dreaming/planning phase, you might have a hard time acting on some of the prompts. That said, once you've received your kit in the mail, it's yours forever! So you can always take a look now and revisit it when you have a better idea of the work you want to do.
// I'm a solo business owner. Is this a good fit for me?
Absolutely! We're happy to support all like-minded clients, from solopreneurs to multinational corporations (and we have). The coursebook is designed to be completed by the primary decision-maker for your business, so if that's you, wonderful! If you have a few key partners, this may even be a good group exercise to work through together. But the size of your business doesn't really determine whether this will work for you; that's determined by your willingness to take the time to consider your business and make your way through the coursebook and engage with The Aurum.
// How much time can I expect to spend on this course?
This really depends on your own comfort levels in talking about your business and the amount of space you need to sit with the material. Each module includes exercises, guided visualizations, and inquiry questions that will help you figure out what your business needs, and step-by-step instructions on how to implement those plans. You won't want to rush through this in a weekend, but you should be able to start implementing what you've learned as you go.

// I'm not so tech savvy. What do I need to be able to use this material?
Because this is an actual, pen-and-paper coursebook…absolutely nothing! If you want to access the video introductions, the digital copies of each lesson, the audio MP3s, or the links to useful websites, you'll need to be able to insert a USB drive into your computer and open the files (well-organized in folders so you can easily find what you need). But if you prefer the old-fashioned approach, the (enclosed) pen and notebook will give you everything you need.
For The Aurum, you'll need to have basic internet access to log in to our membership portal, a Facebook account to interact with our community, and the ability to click a link to join our video calls. If you'd like to be coached during one of our group coaching calls, a microphone (built-in is fine) and webcam are important.
And if you get stuck or run into a snafu, we're just a message away at info@dossieragency.com.
// Why a physical course book? I thought everything was online these days.
We've heard it said that offline is the ultimate luxury, and we tend to agree. At a time when so many of our interactions are digital, when we're staring at screens most of our day, doesn't it sound just a bit decadent to turn off the computer, put your phone on silent, and hold a beautiful, hardback book in your hand while you focus solely on your business (and not the 9,000 distractions of email and social media and everything else that creeps in when we're online)?
We believe it should feel luxurious to work on your business, which is why we've packaged our Brand Alchemy Experience with an array of treats and tools to help you maintain focus, clarity, and a feeling of delight—dare we say, enchantment—while you build your brand identity.
// Do you have a refund policy or a guarantee?
We guarantee that you will be getting the best work we can provide, and we do not offer refunds. We have a wealth of experience and a commitment to excellence but do not guarantee specific results from our work, since clients will come into this process in all different seasons of life, phases of business, and levels of self-awareness. However, because this is a physical kit you'll be receiving in the mail, if anything arrives damaged, please let us know and we'll make it right.
// What can I expect to happen once I make the purchase?
When you order your Brand Alchemy Experience, we'll send you a confirmation email letting you know we've received your order. We anticipate shipping kits in January, on a rolling, first-come, first-served basis, once we've received all the (loads and loads of) swag we'll be including. We'll send you a notification when your kit has shipped, so you can wait by your mailbox for its arrival. (Yes, shipping costs are included.)
Doors to The Aurum open on January 1st. You'll receive log-in information in your email once our membership portal is ready for you.
// When will I receive my Brand Alchemy Experience kit in the mail?
We plan to ship the next batch of Brand Alchemy Experience kits beginning in late January, and will be processing orders as we receive them once we have all of our materials on hand. We will do our very best to keep stock on hand, but be aware that much of what we're including is being created custom for us, which means that we will need to periodically replenish our inventory, and bespoke materials don't appear overnight (shoemaker's elves be damned). If we anticipate delays in shipping your kit, we will be in touch as soon as possible with an estimated ship date, though you're welcome to begin engaging with The Aurum in the meantime.
Have a question we haven't addressed? Email us at info@dossieragency.com and we will respond to you ASAP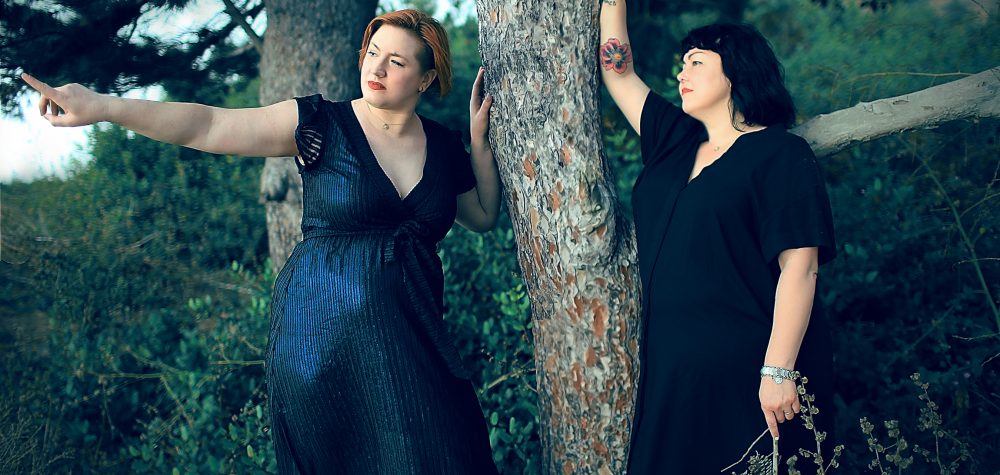 Katie and Emma parlayed their decades of marketing experience into their dream business, Dossier, in just a matter of days, with ease and in alignment with their values and with each other. Surprising? No; that's how they've always collaborated, whether on copywriting projects, running a magazine together, planning a party, or helping their friends, families, and one another navigate life. That is, with razor-sharp focus, crystal-clear intentions, mad intuition, and a fervent desire to bring excellence and beauty into the world.
Oh, and all this while on opposite sides of the country. (It helps that they're both former goth/punk kids, science nerds, language dorks, Cancerians, mothers, and connoisseurs of perfume, gin, and red lipstick.) When the planets align and they're in the same city at the same time, Emma and Katie enjoy posing moodily on cliffs.