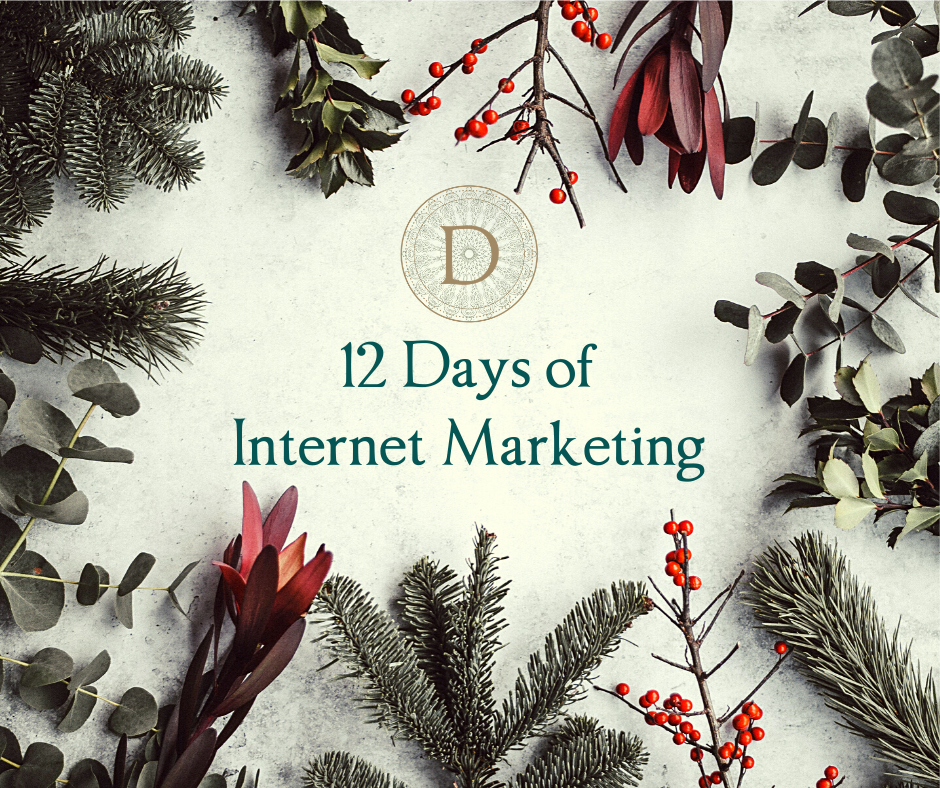 The 12 Days of Digital Marketing: Day 12
Welcome to Day 12 of The 12 Days of Digital Marketing. 
Every day, we'll answer a marketing question sent in by people like you. Even if—especially if!—the phrase "internet marketing" produces deep nausea or dread. We're here to show you how it's all about connection and authenticity.
Q.
I keep hearing that I need to build my list. Why is it so important? And how do I start?
– Lost and Listless
A.
Dear Listless—
First of all, know that you can do business any way you want. If you'd rather pull your own teeth than send out emails, don't. But if you're looking for a way to connect with potential clients and you think a mailing list is something you'd like to try, there are definitely some benefits.
Having a mailing list means direct access to  a group of people who have already expressed interest in what you're doing. It's not a guarantee that they're going to buy from you—whether it's a matter of desire or budget—but by signing up, they've indicated that there's something about you that resonates with them, and it can be easier to get sales from people who already know you. It's also a great way to build relationships, show people you know what you're talking about, and keep yourself on their mind for if and when they ARE ready to hire (assuming you keep up with your emails).
It does take a bit of work to build your list. Some people are already interested in what you're doing, and all it takes is reaching out to them personally or via social media, and they'll be happy to join. For most people, though, you need to show them why they want to get messages from you. The easiest way to get new followers is through a really great opt-in gift.
Your opt-in is something people receive when they sign up to be on your mailing list, and it should give them a feel for what you do and why you're different from everyone else out there. You don't need to give away the best of your work for free, but it does need to have some sort of value, and ideally, it's going to give people a hint of what it's like to work with you. A short, email-based course (say, something that can be delivered over five emails to teach them how to do something specific) or recorded webinar are good options. Another choice might be a quiz—everyone loves learning what pizza topping or crayon color they are, and a short assessment that helps them understand something about themselves can be fun and a great way to teach them about your methodology or help you to learn something important about them before you work together. (Work best with pepperoni and not with pineapple? It's much better to find that out before you're in the middle of a big project.)
Having a fun opt-in quiz that goes viral is sort of the dream here, but realistically, you'll probably find that this is a longer-term investment. Plan to remind people of your opt-in regularly and make sure that the content you promise your list is what you're actually sending them, and you're likely to find that this community is a valuable way for you to get helpful feedback, connect with the Right People who love what you're doing, and promote your latest ideas to a receptive audience.
It's also a great place to spend a couple weeks over the holidays sharing your thoughts and hopefully answering a few burning questions. Thanks so much for being part of this with us.
Wishing you a community as wonderful as ours,
– Emma & Katie
Thank you for joining us for our 12 Days of Digital Marketing! We hope you've found the advice we've shared during this series to be helpful. If you missed any installments, you can find them all over on our blog. Still have questions? Reach out to info@dossieragency.com and let us know. We'd love connect.