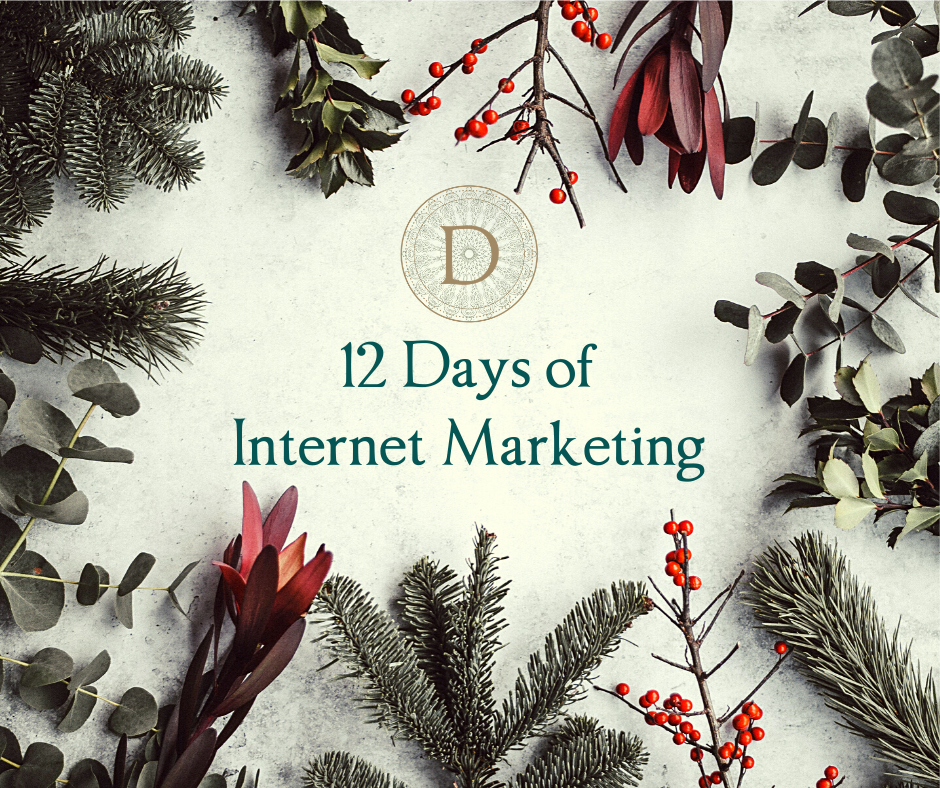 The 12 Days of Digital Marketing: Day 6
Welcome to Day 6 of The 12 Days of Digital Marketing. 
Every day, we'll answer a marketing question sent in by people like you. Even if—especially if!—the phrase "internet marketing" produces deep nausea or dread. We're here to show you how it's all about connection and authenticity.
Q.
I'm ready for a rebrand, but I can't figure out how to describe the vibe I want my business to have. I'm not even sure I know what vibe I want. How can I make sure the designer I hire really gets my vision if I can't put it into words?
– Wordless in Washington
A.
Dear Wordless,
Verbalizing your vibe is definitely more of an art than a science, and no two designers are going to interpret basic notes the same way. If you say "aqua," you're likely to get back anything from turquoise to robin's egg to teal.
A good designer is going to have a pretty involved intake process that will help them translate your vision into hex codes and font choices, but that's not much help if you're not entirely sure what you want. Before you try to explain it to someone else, try talking through it yourself.
Instead of saying, "I like this color," think about the overall style that appeals to you. Is that aqua you like coastal? '80s? Mid-century modern? Try finding photos online that feel like your style, and send those to your designer, along with an explanation of any particular things that stand out to you. They should be able to carry that feel through your colors, fonts, and even your overall design style.
Don't forget about your Right Person. Think about your favorite clients. Do they have anything in common? How do you feel when you work with them? How do they feel when they work with you? Picture them sitting with you. Is your virtual "office" space a dimly lit library? A cozy cabin retreat with thick, white blankets? A hip coffee shop? A trendy Parisian café?
Finally, think about the content you've created. What are the most important themes in your work? Are there any words or phrases that come up again and again? Is your brand voice vivacious? Comforting? No-nonsense?
When you have a good feel for what matters to you in your business and for the overall feel that inspires you, it's much easier to convey that to a designer (or a copywriter, for that matter). Give context, tie it to your Right Person, and always keep your purpose in mind, and you'll have a rebrand that feels utterly you.
Sending you all the good vibes,
-Emma & Katie
Have a burning question of your own? Email us at info@dossieragency.com. We're keeping all questions anonymous, so be as upfront as you need to be, and don't worry about feeling silly. Chances are, lots of other people need to hear the answer, too.